We want you to have the best experience possible, so take a few minutes to peruse the Joyride Guide. You'll get a timeline of the event, route and rest stop information, and the lunch menu.
Notes
Riders can start their routes between 8 – 10 a.m.
You may choose whichever route you like, no advance sign up necessary.
Lunch will be served to registered riders only. For friends and family joining you at the finish line, there are great lunch options in Independence.
Please no non-registered riders "tagging along" on the route.
Directions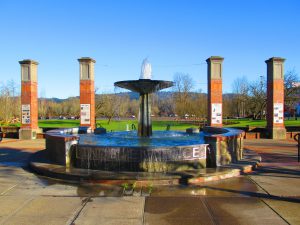 Your experience will begin and end at:
Riverview Park in Independence, OR
To get to the event from Portland:
From I-5 heading south, take exit 260A for OR-99E towards Salem Parkway
In about 4.5 miles, turn right on to Marion St NE
Continue on to OR-22 W/Marion St Bridge
In about 5.3 miles, turn left on to OR-51 S
Continue for about 6 miles in to Independence
Turn left on Grand Street (sign for Dog Park)
You will see signs and be directed to parking near the Independence Dog Park
Routes & Rest Stops
There are three unique routes available of 17.8, 39.9 and 63.6 miles. Each route will be well marked and fully supported. You do not need to commit to a route ahead of time. Maps and cue sheets will be provided.
Our routes will pedal by Redgate and Emerson Wineries and their wine will also be served at our finish line festival. Our rest stops will include Rogue Chatoe Tasting Room and an Organic Valley Farm that will feature products straight from the farm.
Rest Stops will feature an abundance of fresh and local products and will include delicious treats such as local berries, nuts, jams, granola, and a variety of other snacks to help fuel you along the way. There will also be water at each stop. All stops will have restrooms.
Rest Stop Locations:
Short Route
Medium Route
Mile 14.0 – Rest Stop
Mile 27.9 – Rest Stop
Long Route
Mile 11.4 – Water Stop
Mile 22.0 – Rest Stop
Mile 40.5 – Water Stop
Mile 51.6 – Rest Stop
Navigation:
The route will be well marked and rider maps will be included in your packet.
If you would like to download RideWithGPS files before the event, all route options are posted HERE.
Bike Gallery Support
Our friends at Bike Gallery will be on board for mechanical support. They will provide basic fixes to get you back on the road should something go wrong. Please make sure your bike is in good working order before the event. They will not be able to provide tune ups to bikes that are not in good riding shape.
Mechanics will be stationed at rest stops and in camp. If you break down on route, give a "thumbs down" to any Cycle Oregon vehicle passing by. They will be able to get you to a nearby mechanic.
On-site Activities
Massage – These are "sports-event style" sessions (short, clothed, recovery massage). $50.00 per 1/2 hour – signups available at massage tent.
Acupuncture – Betsy Platt of AcuOm will be available to provide specialized acupuncture and Eastern medicine. Signups available at acupuncture tent.
Physical Therapy – Megan Moseley, PT, LMT, of Bodywise Physical Therapy and her team, will be available after the ride for free injury consultations including a brief evaluation and hands-on treatment as needed.
Raffles –Drawings at 2 p.m., no need to be present to win. You will find a slip of paper in your packet with your rider number. Simply place that number in the entry box of your choice.
You can view a map of the site HERE.
Timeline
7 a.m.
7:45 a.m.
8 a.m.
Routes open
Rest stops 1 & 3 open
9 a.m.
10 a.m.
All riders must be on the route
11 a.m. – 3 p.m.
11 a.m. – 4 p.m.
Finish Line Feast at Riverview Park
Massage, Acupuncture, and Physical Therapy open
1:30 p.m.
2 p.m.
Raffle drawing
Rest stop 2 closes
3 p.m.
4 p.m.
Finish Line Feast
The finish line festival will include local beer from Parallel 45 and Rogue and delicious candy samples from the Melting Pot Candy. There will be two great farmers markets within blocks of the finish line.
Lunch Menu
Draper Valley pasture raised chicken marinated and grilled on-site
Thin sliced NW Natural beef brisket
Local tamales and salsa from Vianney's Tamales
Whole grain roll with butter balls
Roasted acorn squash wedges
NW Classic Foods fresh pesto pasta salad with vegetables
Salad Bar featuring a variety of local and organic fresh salad toppings
Lauretta Jean's Biscuit Bar with local strawberries from Diaz Farms, blueberries, Alpenrose whipped cream, Oregon jams and Martha's honey
Thank you to our Champion sponsors: