This was supposed to be a fall foliage feature for our October newsletter and we pushed the ride until the very last minute, the day before newsletter delivery. But we were a bit too early for the full signs of autumn color and despite the promise of a lovely early October day the sky was hazy with smoke from the continuing wildfires. We did not get the reds and golds we'd wanted but we did end up discovering a lot more than expected. In short, the Covered Bridges Scenic Bikeway is a fantastic ride and Cottage Grove is a lovely, welcoming city. Scroll down for a ride and photo report from Chris DiStefano, our Marketing & Development Manager.
Cycle Oregon, Oregon State Parks, Travel Oregon, ODOT and others joined forces in 2009 to create the Oregon Scenic Bikeways program. Cycle Oregon provided a signature grant of $50,000 to launch the program, awarding additional grants and support in the time since. Scenic Bikeway routes are the best bike rides in Oregon and showcase beautiful scenery, state history, and local communities.
Covered Bridges Scenic Bikeway / Row River Trail
Ride With GPS – Downloadable Route
Travel Oregon – Printable Map & Cue Sheet
I want to ride all the Oregon Scenic Bikeways but this one has stood out for me over the years. I can't recall where I came across it but I picked up a tri-fold brochure for the Row River Trail from a rack at a diner somewhere years ago. (Two names, same route, by the way.) It was always among my notebooks and papers as something I'd do "soon"; it looked fun and scenic. But I never seemed to find my way to Cottage Grove other than stops as I traveled north or south on I-5 and the ride eluded me. I lost that flyer a short time ago, too. A search for fall color bike rides a few weeks ago delivered the Covered Bridges Scenic Bikeway on screen and I resolved that the time was now. This would be the October fall ride feature. Now I wish I'd gone sooner, what a great ride…
What stands out most about this route is that it can be nearly car free. From downtown Cottage Grove it's only a few blocks to the trailhead of a 17-mile paved bike/pedestrian-only out-and-back path. Start from the Mosby Creek Trailhead 3 miles away and you're carfree the entire route save for a few road crossings. But the ride from town is worth it and puts you at the doorstep to a number of great cafes, restaurants, and breweries when you roll back to the finish. The official Scenic Bikeway Route takes you away from the path on the return trip for a 10-mile stretch on Garoutte Road, which includes a good climb, but I chose the path out and back and was not disappointed
Make no mistake, this is not a flat trail like the Springwater Corridor in Portland. The route does begin flat and straight out of town but gets lumpy and twisty once you pass under Row River Road through a short tunnel. Leading up to this tunnel is a sign I'd not seen before and I'm not sure if it warns me of something I don't want or inspires me to get rowdy. I like signs and this route had a great variety along the route. To that point, the route is clearly marked including highlights painted on the trail where roots and cracks might cause a problem for riders. The route is popular with locals and it's clear that the community cares for this beautiful resource.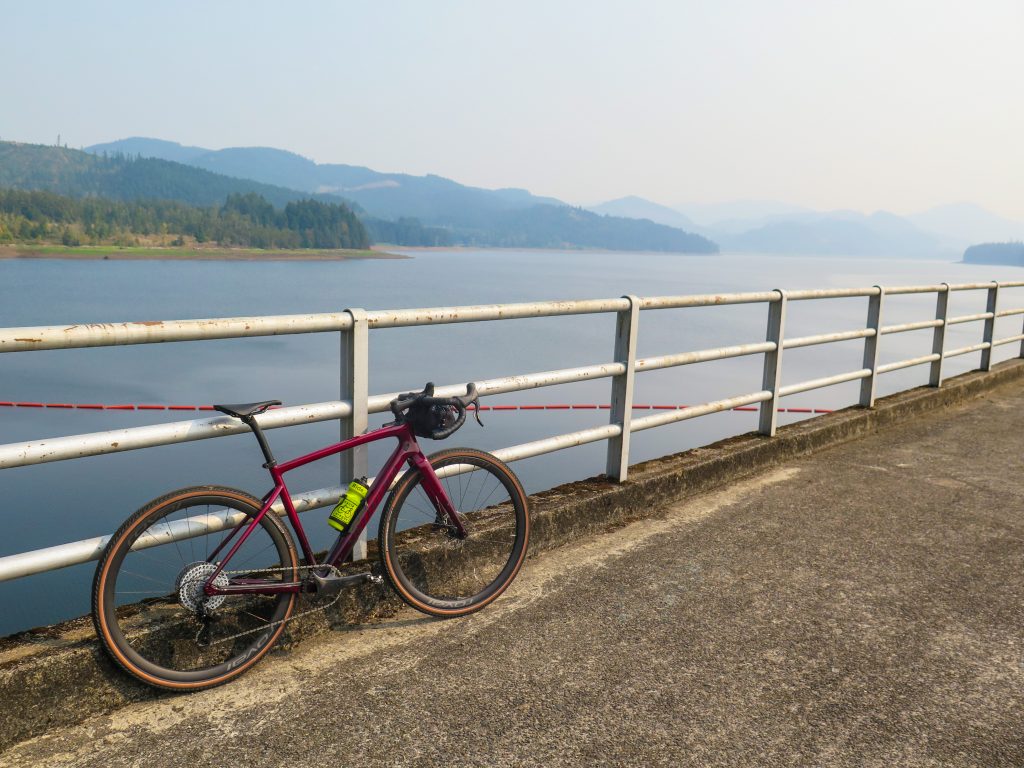 The Row (rhymes with cow) River Trail follows an old railroad grade along the north side of Dorena Lake. You won't see much of the lake on your trip out as it's just over your right shoulder but it is clearly in view on your way back. Something to consider as you look at the lake is that the rail line was once down there, right along the center of the valley that is now a lake created by a dam constructed by the Army Corps of Engineers in the late 1940's. This new route sure seems like a lot more fun than that one would've been! And, I'd mentioned it earlier, this is no casual cruise. The terrain undulates and stings you with a little over 1000' of climbing and likely a headwind on your way back. But the terrain is varied and sights abound so you really can't complain, now can you? This is everything we love about riding bikes.
Just about any bike will do here though a gravel or hybrid bike might be the most ideal. There are all sorts of offshoots and options along the way so having a little width to your tires will allow you to be adventurous. There are four maintained bathrooms along the way and picnic tables abound with lovely views. Be sure to bring snacks and water with you as you won't find stores along the route.
How did I write this much already and not mention the covered bridges? Lane County has more covered bridges than any county west of the Mississippi and you'll find several along this route. You'll find two in Cottage Grove before you even begin so get that social media photo out of the way and just enjoy the rest of the ride. Speaking of enjoying a ride, the J. Polk Currin swinging foot bridge on the west side of town is an interesting experience. If I could surf I'd imagine this is what surfing feels like. Can't say I know but this is a beautiful bridge and worth a look.
Cottage Grove establishments offer friendly service, delicious food, and plenty of outdoor seating while we enjoy this lovely weather so don't wait as long as I did to ride the Covered Bridges Scenic Bikeway.
More photos from the day: