Tia Sherry is the Development Director and Co-Executive Director for The Street Trust, the Portland-based non-profit advocating for healthy bike, walk, and public-transit policies for Oregon communities. She is a powerful force in our community yet gracious and easy-going with an ever-present smile and aura of optimism. She claims to love riding alone but is one of the best riding partners you could ever hope to have with you handlebar to handlebar. For our My Favorite Route series Tia has chosen Cycle Oregon's Inaugural Joyride event and how a simple challenge to herself led to self-discovery and new friendships.
My Favorite Route – Tia Sherry
I love riding by myself. I can go my own speed, choose my own route, and I don't have to talk to anyone. At least those are the reasons I tell myself. The truth is, as a woman of color, I don't fit in any cycling group so the idea of an organized one-day ride just didn't appeal to me at first. In fact, I deleted every email from Cycle Oregon announcing the inaugural 2016 Joyride. "No way," I kept telling myself, "not for me."
I also love a good challenge and the uncomfortable opportunities they present for me to learn about myself and how I fit, or not, into the world. Another day came and another Joyride email arrived in my inbox; I decided to at least give it a read. "Who knows," I thought, "maybe I'll learn something."
I learned that Joyride would be different; it wasn't just a simple bike ride through the countryside. This one featured WINE along the route and, (okay!!!), that sure captured my attention so I read further. I could choose between three routes (short, medium or long) that would lead me through vineyards in the lush Willamette Valley wine country. The rest stops would feature local treats straight from local farms like berries, nuts, jam, yogurt and, yes, wine. Yoga and massages were available; this was starting to feel very spa-like and much more than just a simple day's pedaling. Another important difference? No men allowed! They could volunteer but they couldn't ride. I reminded myself that I like challenges and I like to learn so in spite of my apprehension I signed up.
McDougall Road, with its slight rise and descent, is a quiet two-lane road that takes you from Hwy 99 to Stoller Family Vineyard and Winery in Dayton. I saw Cycle Oregon's colorful welcome banners lining the postcard-perfect driveway of the vineyard, yet I arrived with a touch of apprehension. What was I doing? I don't like riding with others, I love riding alone. This might be a mistake.
As I unloaded my bike I could hear the spirit of friendship before I could see it. I heard laughter, hands slapping high-fives, and a sea of women calling out to each other like a game of Marco Polo in a summertime swimming pool. But no one called my name. "It's okay," I told myself. "You're strong, you can do this". I would just ride fast and get out once I was done. But there was definitely something in the air about this new Joyride event, I could feel it.
2016 was a year of firsts at this event. It was the inaugural Joyride and my first ride with Cycle Oregon. I had heard over the years about the Classic's cult-like following with cyclists coming back year after year, many far away places, for the incredible routes, impeccable logistical organization, and the friendships formed. I was cautiously optimistic, hoping those values would carry over to this new Joyride event.
I was immediately impressed with the ease of registration, the layout of the tents, the number of volunteers, and the warmth that was exchanged between so many. However I was envious of the groups of women, sometimes two women, sometimes six or more, gathering to take group photos before they rode off together. I took a selfie. "It's okay," I told myself. "You're strong, you can do this". I'll just ride fast and get out once I'm done.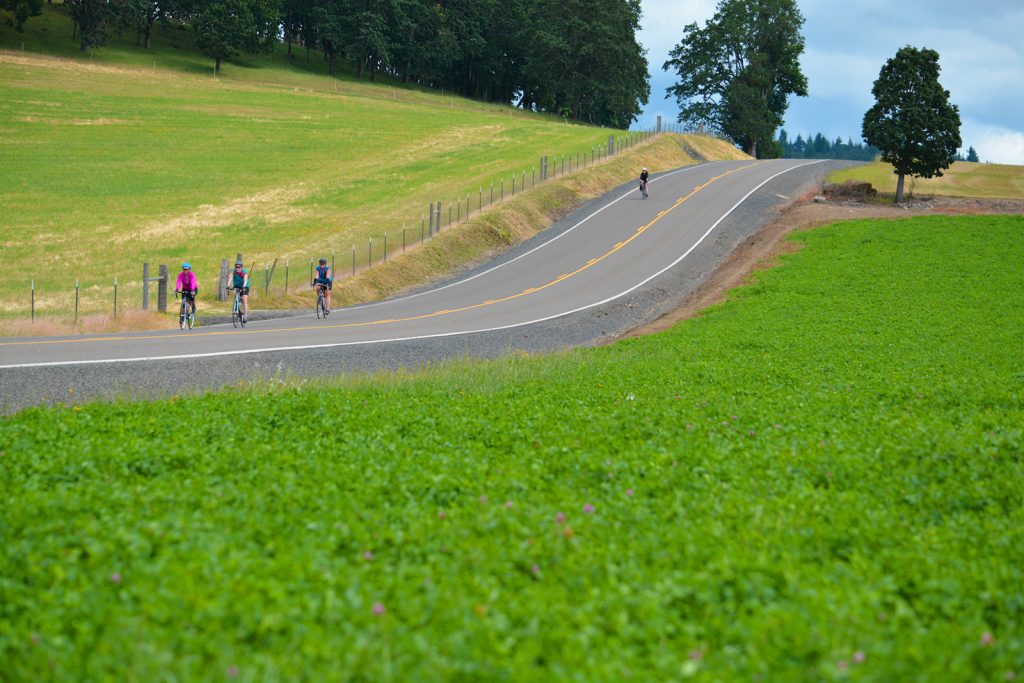 Armed with a map I rode off alone. The first few miles of a ride are usually a blur until I eventually settle in and truly take my first deep breath. After leaving the boisterous start, I finally dropped my shoulders and sank into my bike and my thoughts. You probably know that feeling I'm talking about – when you and your bike become one. I soon noticed what I found out later is called leap-frogging, seeing the same riders that you chase or who chase you from rest stop to rest stop. It's kind of weird riding for miles with or near the same people even though you don't know them. But eventually someone breaks that awkwardness and says, "Hello". And that's how I met Robin and Kelly and Cyndy and Veronika. They knew each other, rode together often, and, inspired by all the Cycle Oregon details that appealed to me, signed up for Joyride together. They had noticed earlier in the ride that I was riding by myself and invited me to ride along with them.
Remember, I like challenges so I joined them and the miles soon slipped away without effort. We spent the day talking about Shimano versus SRAM, disc brakes or rim brakes, our careers, about loss, and love and family but we always returned to talking bikes. These women were white and though I did not see many other women of color that day, it didn't matter, we all had our bikes. The bike on this course, my favorite Cycle Oregon route, was our equalizer and the glue between us despite any differences in skin color, riding ability, age, or bike components.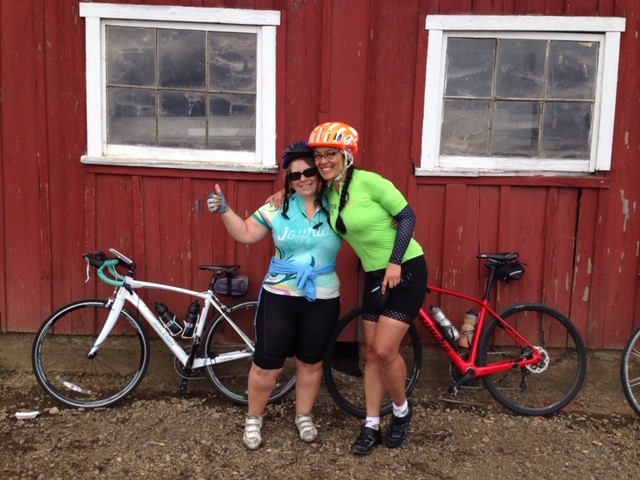 In my job as co-executive director of The Street Trust, (formerly Bicycle Transportation Alliance), we work to break down barriers to cycling and advocating for policy to fund the infrastructure needed for safe cycling, walking and accessing transit. Riding a bike is a form of protest to our transportation history that built streets for cars and not for people. When I ride my bike I am saying streets are for people first. The more of us that ride, the more our leaders will prioritize active transportation as a primary way for people to get around. It must be safe, convenient and affordable.
I can't tell you which rolling hill or sweeping turn was my favorite part of Joyride because one is swallowed up by the beauty of the area and the friendships formed. Those friendships are there every June when I return to Joyride. Oh, and so is the wine!