If big city living ever gets you down, the solution might be to find yourself a little slice of Independence. And as luck would have it, Independence, Oregon is just 50 miles south of Portland along Route 51. A quick trip by car or a lovely meandering ride through wine country via the Willamette Valley Scenic Bikeway, Independence is ready and waiting with an abundance of elbow room and small town charm.
Located on the west bank of the Willamette River in the heart of current wine country, Independence was settled by pioneers looking for level land on which to graze their cattle. Perhaps not wanting to commit an entirely new address to memory, the founder gave this new town the same name as his previous hometown of Independence, Missouri. By 1885, the town was on the map and prosperity followed shortly thereafter.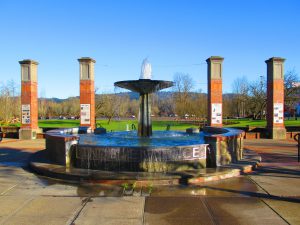 The town proved to be a great shipping point, both by rail and by boat, and was geographically well suited for lumber and agriculture. The fertile valley was particularly well suited for one specific type of agriculture and from 1840s-1950s the area became known as the Hop Capital of the World. The hop market hit a lull around 1950 but several decades later Rogue Ales and Spirits moved in to take over those hop farms in an effort to return them to their former glory. And most would agree that they've done a pretty darn good job at it. If there's any doubt that hops are still king around here, stop by town in September at the end of the hop harvest and check out Independence's Hop and Heritage Festival featuring activities for the kiddies, live music, and of course, beer.
To get a good feel for the town, a good place to start off is Old Town.  Much of the 30 square block downtown area that is now known as the Independence Historic District was built around the turn of the century. The well-kept buildings and the tidy main street are a great look back at simpler times. Don't look back too long though – heritage is important, but Independence has their eyes on the future. This town has all the modern trappings and loads of interesting ways to spend your time here.
One unique aspect of Independence is that you can just as easily explore town by canoe, bike or ferry as you can by car. For paddlers and cyclists, Riverview park actually has a campground specifically for their needs. This biker/boater campground was funded through Cycle Oregon and features WiFi, showers, drinking water, a bike repair station, and is within blocks of downtown. Not too shabby for only $10 a night! Another treasure you can only find here is that of the oldest continually operating ferry in Oregon. The Buena Vista Ferry is located just south of town and will take you across the river from Polk County to Marion County. (free for pedestrians, $1 for bikes, and $3 for vehicles).
If you're feeling contemplative and also a little indecisive, Mt Fir Inspiration Gardens has nearly two dozen different gardens (including separate bee and butterfly habitats) on 7 acres of land that used to be a lumber mill. And if you're feeling collegiate and have the urge to roam the quad, Western Oregon University (go Wolves!) is just a few miles to the west in Independence's sister city of Monmouth.
And lest you think we forgot the foodies and wine-ies, this area has an abundance of great wineries including Redgate Vineyard, Airlie Winery, and Eola Hills Winery. And where there's delicious food being farmed, there is sure to be delicious food being made. Jubilee Champagne and Dessert Bar, Pink House Cafe (a 1870's house), Ovenbird Bakery, Brew Coffee and Tap House, Rogue Micro Hopyard and The Naughty Noodle are all there to satisfy your every tasty craving.
No doubt about it, Independence is a small town. Friendly folks and a slower pace of life are abundant here, but so is amazing food, award winning wine and beer, and a well-maintained heritage. It's the perfect place to plan a getaway by bike, boat or by car. It's also nice to know that you don't have to go far.